Every day, women and girls experience incidents of abuse, harassment, or violence at school, at work, on public transport, in open spaces, on the street, and at home. We recognise the severe and widespread consequences this has for individuals, families, and communities in Ealing.
At the beginning of 2022 Ealing undertook a listening exercise with the aim of understanding the experiences and perceptions of women across the borough. Over 3000 brave and honest women and girls took part. Through listening to these voices, we are able not only to set out the challenges, but also set out real and meaningful action to improving women's safety in Ealing. Read more >
Key themes that emerged were a significant amount of underreporting of offences, either because they did not know how to report or a lack of confidence in reporting. This was made worse by a lack of awareness amongst women and girls of support organisations available.
90% said they did not know of organisations that support women who have experienced violent or abusive behaviour
Only 14% of people who had experienced unwanted behaviour or comments had reported it
Free text/focus groups: Lack of clarity around what type of behaviour is a crime and how to report it.
To address this, the council committed to creating a website dedicated to raising awareness and providing up to date information on activities and support services available in the borough, as well as information on how to and where to report.
In response to the overall findings of the Safer Ealing for Women listening exercise, the council also made a series of other commitments to improve women's safety and action has been underway since September 2022. The full action plan is below.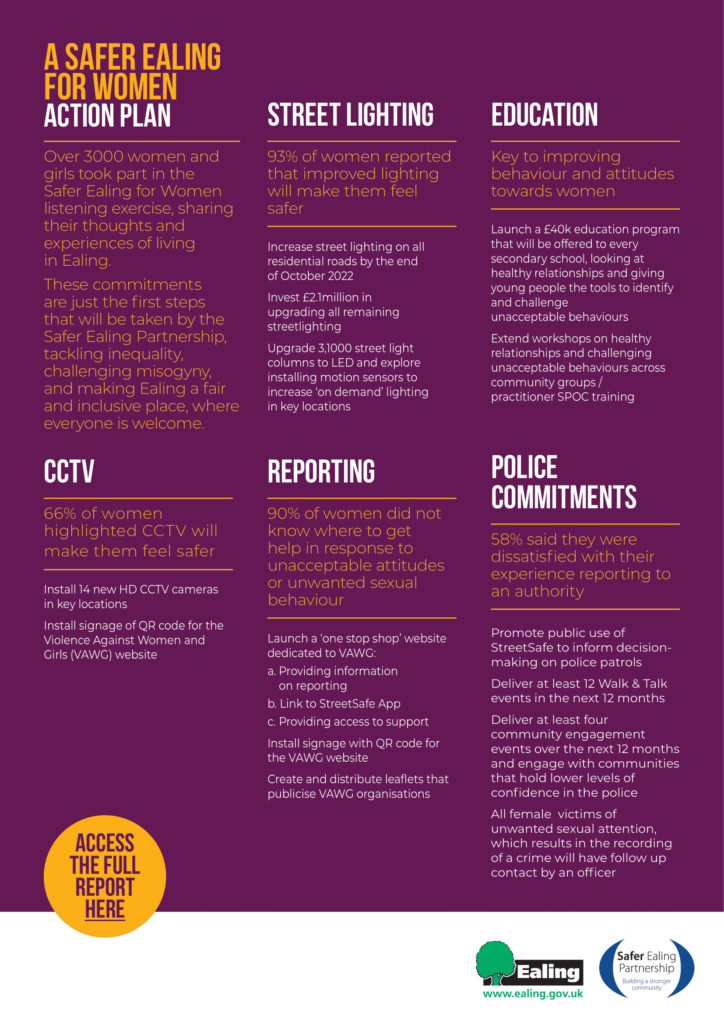 If you or someone you know is in immediate danger or in need of urgent protection, call the police on 999.
Staying Safe / Practical Advice
We've put together some suggestions you might want to consider in order to make yourself as safe as possible.
Our Partners
Across Ealing there are a number of support services available to help in making the right decisions for you.